Officers
Winni Gao
President
Engineering '20, Biomedical Engineering
Hey y'all! I started Wushu as a freshman at Cornell and have been practicing long fist and straight sword. In the past, I did acrobatics, figure skating, and fencing, but was always interested in trying out a martial art. I'm glad to have joined Cornell Wushu and am excited to learn more and to meet cool people!
Audrey Gunawan
Vice President
Engineering '21, Materials Science & Engineering
Hey guys, I'm Audrey! I've been practicing Wushu for the last 7 years, and I specialize in longfist, straight sword, and spear. Cornell Wushu has allowed me to meet loads of amazing people and has helped me grow stronger both physically and mentally. Outside of Wushu, my interests include running, reading, dancing, and photography.
Robert Yang
Practice Leader
Arts & Sciences '20, Computer Science
Hey folks! I'm a senior majoring in Computer Science in the College of Arts & Sciences at Cornell. I was born and raised in Queens until about the 8th grade, after which my family and I moved to Jericho, Long Island. I got involved in Wushu my freshman year after a high school friend of mine introduced me to the sport (thanks Haejin!). Soon after, I fell in love with the sport, and I've been practicing and competing ever since!
In my free time, you'll find me practicing Wushu in Barton, lifting in Teagle or Noyes, being a degenerate lying in my bed, video gaming (I have a Steam account), or grabbing bubble tea in Collegetown with members of the club.
Kathie Lin
Performance Coordinator
Engineering '20, Materials Science and Engineering
Hi! I'm from Houston, TX, and I'm majoring in Materials Science and Engineering. I've been in the Wushu club at Cornell since my freshman year. I didn't have martial arts experience before joining, but I've really enjoyed getting to know the people in the club and learning some cool new moves. Outside of Wushu, I enjoy dancing, cooking, painting, and playing board games.
Everett White
Treasurer
Engineering '20, Computer Science
Hey, I'm Everett! I started Wushu a little over 3 years ago when I joined Cornell Wushu and before that I was on my high school's fencing team. Outside of Wushu I spend time playing video games, reading and trying out new recipes I find interesting
Camryn Gray
Secretary
Arts & Sciences '21, Computer Science
When I was seven I started learning Tian Shan Pai style Kung Fu, and I knew that I wanted to continue learning martial arts in college so I joined Wushu! As well as doing Wushu and Kung Fu, I also like to read, do theatre, and pet cats.
Devin Chin
Media Director
Arts & Sciences '22, Information Science
Hello! I'm Devin, and I'm from New Hyde Park, Long Island. I was part of my high school's Wushu club, but I never competed. I joined Cornell Wushu in my Freshman year, and in the short time since then my Wushu abilities have improved drastically thanks to the mentorship of the senior membors in the club, and I've made friends with some of the coolest people at Cornell! Besides practicing Wushu, I like to spend my free time playing jazz piano and learning languages.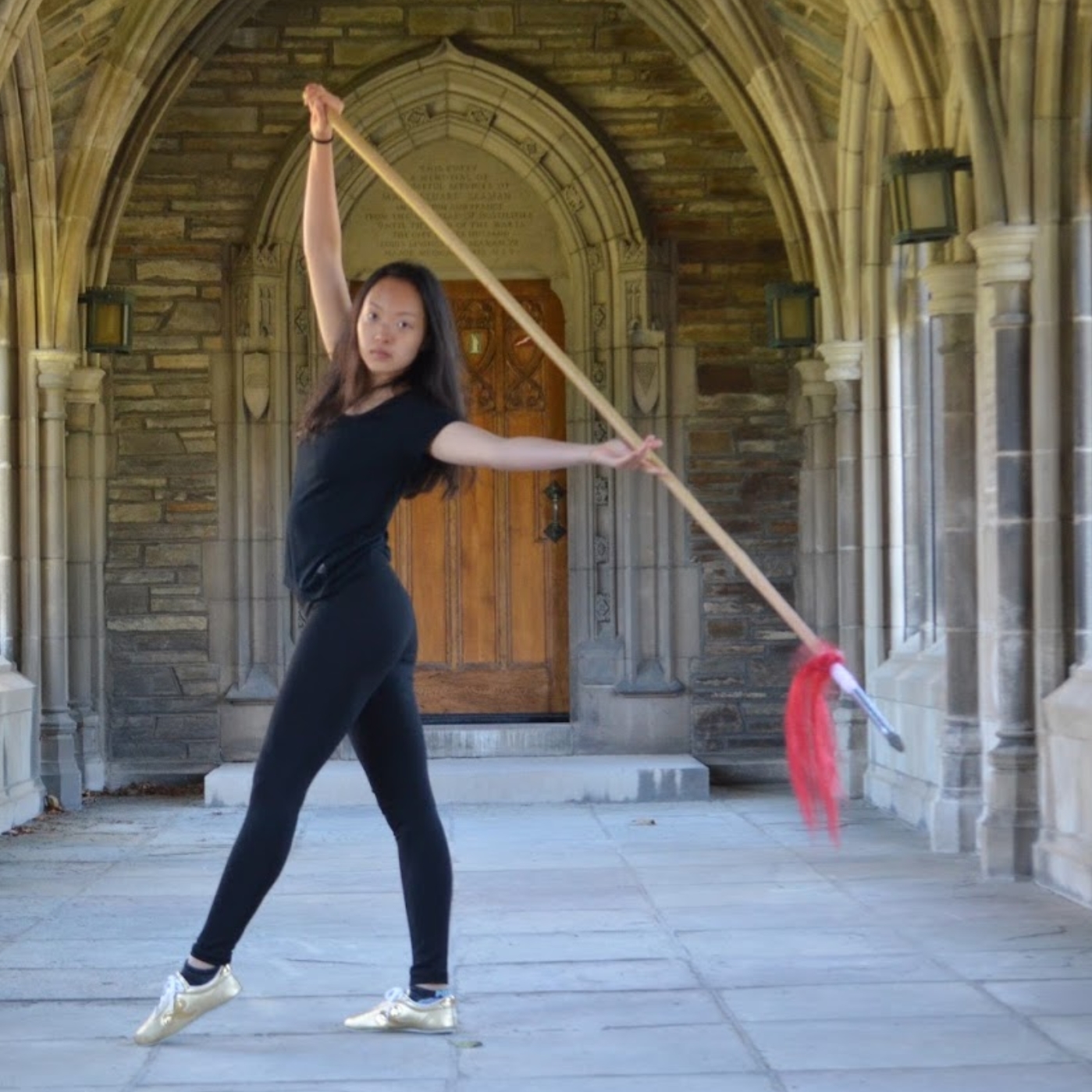 Ruby Min
Social Chair
Engineering '22, Electrical & Computer Engineering
Hello! I'm Ruby, a sophomore ECE major! I'm one of the few people who did wushu before college, and I do all sorts of forms. Besides wushu I like to bake (sometimes successfully), dance, do artsy crafts, and nap.
Members
Autumn Chiu
Arts & Sciences '20, English and Asian Studies
Autumn loves cooking more than she loves herself. She also insists on talking about herself in the third person even if nobody else is. There's nothing on the ceiling, she just does that sometimes.

Kelly Liu
Engineering '21, Materials Science and Engineering
Hello! I'm from North Jersey and never really did sports growing up. When I got to Cornell, I joined a dance team that takes in beginner dancers, and while I have improved since freshman year, I have found that my lack of muscle prevents me from hitting moves fast enough. So this year, I decided to join Wushu in the hopes of getting more fit (and because my best friend from home who practices Wushu has been pushing me to join). Besides dance and Wushu, my hobbies include writing, playing ukulele, and making handcrafts.
Bozhou Jin
Arts and Sciences '21, Biological Sciences and Computer Science
I am an AS student studying BS and CS. I am from Zhejiang Province of China, so I speak both Mandarin and Wu. I started learning Wushu when I was three, kept on for about three years and then did not practice much as I entered grade school. Then I restarted in my senior high school majorly practicing Chen's Taichi.
Joyce Zhu
Engineering '22, Computer Science
Hey! My name's Joyce, and I'm from Vestal, New York (or Binghamton if that helps). I'm specializing in Tai Chi and am hoping to pick up straight sword sometime in the future! I joined Cornell Wushu last year with absolutely zero experience and never looked back. It's a club full of eccentrics, boba-addicts, anime-fans, and meme-lovers that push themselves to their limits and yet know how to joke around (even when the jokes are terrible). I'm one of the anime-fans by the way! I also love to bake, cook, watch movies, and ride roller-coasters.
Adam Yang
CALS '22, Landscape Architecture
Hi everyone, my name is Adam. I'm from Silver Spring, MD. I have no experience in Wushu, but I've studied multiple martials arts in the past including Wing Chun & Muay Thai. I'm super excited to learn more about Wushu & meet new people!
Alice Zhao
Arts & Sciences '22, Computer Science
hi! I'm Alice. I'm studying computer science in the college of arts and sciences, graduating in 2022. I have zerO martial arts experience. from northern va
Nishat Tasneem Peuly
Arts & Sciences '22, Computer Science and Economics
I had NO experience with wushu before this…I did do some Judo in high school (which I completely forgot) so it was really cool I still got to join Wushu!
Kate Ivanovich
Arts & Sciences '23, Statistical Science
Hi, I'm Kate and I'm from Andover, MA! I have no experience with Wushu, but I've done Shaolin Kung Fu for the past 10 years. I'm excited to meet everyone on the team! Outside of martial arts, I like to read, ski, and pet dogs (and cats too I guess).